by Vincent T. Davis
San Antonio Express-News / 24 January 2018
An avid bird watcher, Lance Alderidge has a great view from his third-story downtown office, often spotting hawks and vultures swooping in the air. In early January, he was talking on the phone at the Bexar County Courthouse when a blur flashed past his window. He grabbed his binoculars and zoomed in on what looked like birds of prey chasing a pigeon. Two days later, he spied the same birds flying up to the circular neon light tower on top of the Drury Plaza Hotel. He confirmed the pair were peregrine falcons, alpha predators of the bird world.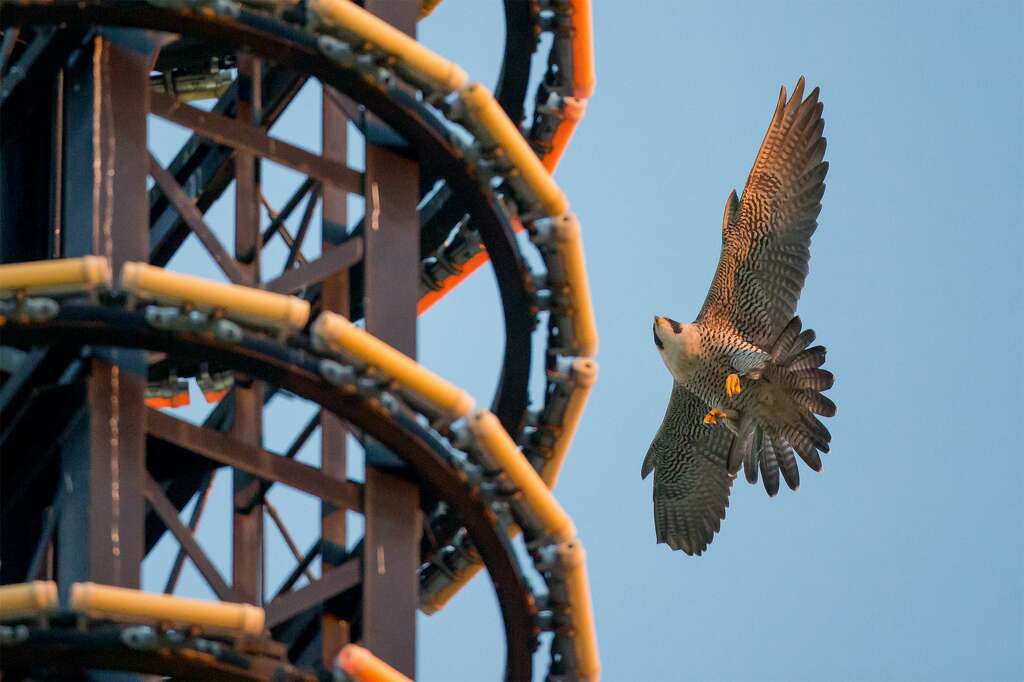 photo by Marvin Pfeiffer / San Antonio Express News
Since the first sighting, the court coordinator for the 175th district court has watched the pair dive-bomb a black vulture and heard their sharp kak-kak-kak call echo above the roof tops. Some of his co-workers have joined his searches as he logs sightings to plot their flight patterns. "It was great to see these things," Alderidge, 36, said, "showing their true nature and dominating the sky."
Bird experts said the pair are making an extended stay in the Alamo City during their migration South. According to The Nature Conservancy, the peregrine falcon was listed as endangered in 1970 because of pesticides and DDT poisoning. Their numbers across the nation have increased with the help of state and federal Fish & Wildlife Services, research and restoration groups. Tourists have posted sightings online of the bird soaring near downtown high rises and recorded sightings of falcons over South Presa Street going as far back as at least 1984. The fastest flying bird in the world also has been observed in other Texas cities, such as Houston, where office workers have watched falcons rise above skyscrapers for years.
Alderidge alerted fellow bird enthusiast John Economidy, a San Antonio attorney, who has followed peregrine falcons at the Corpus Christi Hawkwatch for close to 30 years. He began locating the pair at the Drury, located at 105 S. St. Mary's St., and at other buildings, including the Tower Life Building and the Frost Bank tower. Economidy said he's seen the duo slip into a power dive, called a stoop, to capture pigeons in a blast of feathers and then swoop back to their perch with their prey. "It's a pretty exciting sight to see," Economidy said. "They are marvelous to watch." Photographers have noticed a black band on one of the falcons' left leg. Economidy said the ring indicates the bird was banded in the nest as a chick and is from the Falco peregrinus anatum species.
John Karger, founder of Last Chance Forever, said he's seen falcons wintering in San Antonio for the last decade. Karger said the nonprofit group provides a rehabilitation service for birds of prey and cares for three to four peregrine falcons a year. He said three different falcon species live around the city: the peregrine falcon, the American Kestrel and the Merlin, nicknamed the pigeon hawk. "They live at the top of the ladder with us," Karger said. "So, having them here is an incredible thing to have because it says that our air, food, and water quality is pretty good. They come because there's a food source here and the food source isn't harmful to them."
Lynn Cuny, founder of Wildlife Rescue & Rehabilitation, said seeing falcons in populated areas isn't rare, but nature in place of buildings is better. "The fact that they've made this adaptation speaks to their resilience, intelligence and ability to keep doing what they must do to keep their species alive," she said. "Any wild animal that is making it in our midst is a positive force of nature and we should be thrilled that they're there."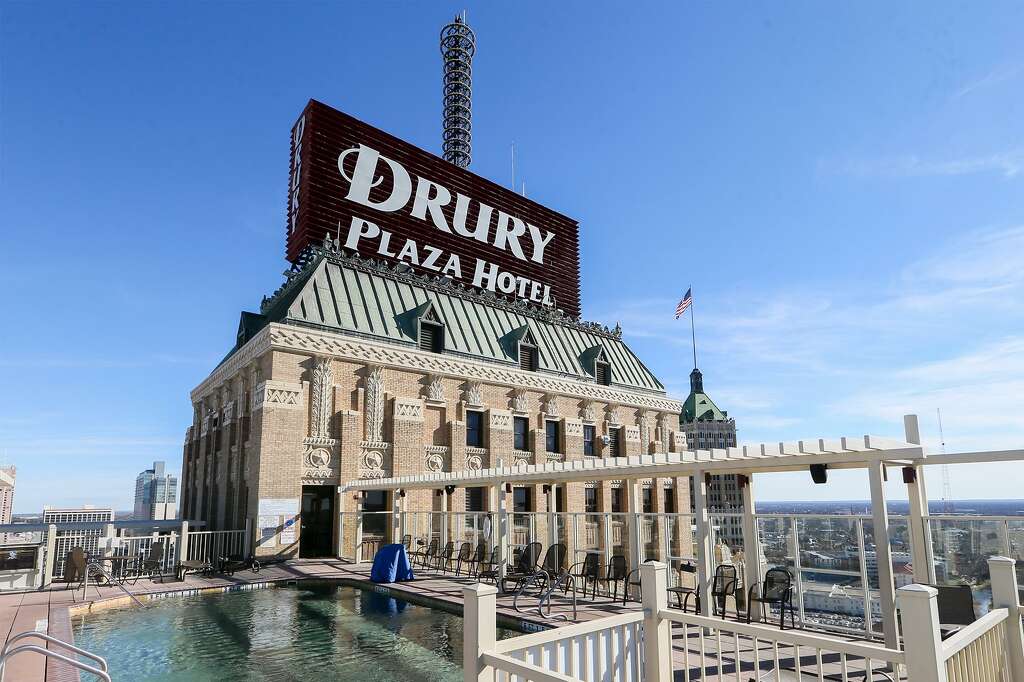 photo by Marvin Pfeiffer / San Antonio Express News
The Drury's general manager, Mark Vilagi, said he's seen everything from bats to hawks swooping along roof tops and the Tower of the Americas during his 30 years working downtown. "Hearing about the falcons isn't much of a surprise, because things just happen down here," he said, standing on the 24th floor beneath the banner of what was once the Alamo National Bank. Vilagi said for decades, locals looked skyward to the neon tower's circular bands, which changed colors depending on the forecast issued by the National Weather Service. These days, residents and visitors alike are still looking up at the tower, but now they're searching for a flash of grey and white, trying to get a glimpse of downtown San Antonio's real snow birds.
story courtesy of the San Antonio Express News
source: www.expressnews.com/news/local/article/Wintering-peregrine-falcons-seen-soaring-above-12523187.php